Car, motorcycle and bike rentals in Serifos
Information about the companies that rent cars, motorcycles, ATV, jeeps and bikes in Serifos
Rent a vehicle and take a tour around Serifos
The distances in kilometers in Serifos are short and the access time to the most distant villages or beaches does not surpass 35 minutes.
Bike rentals at Serifos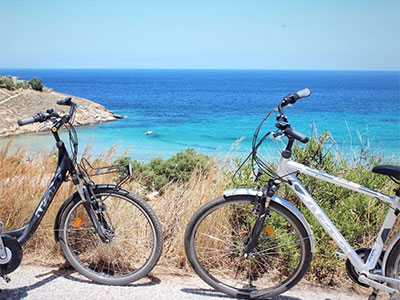 Livadi, Serifos
Live the unique experience of renting an electric bicycle and do the tour of the island. Combine exercise with the return to nature and the ability to visit even the most inaccessible areas of serifos with a simple pedal!
Open:
JAN
FEB
MAR
APR
MAY
JUNE
JULY
AUG
SEP
OCT
NOV
DEC
ROAD DISTANCES IN KILOMETERS IN SERIFOS

| | |
| --- | --- |
| CHORA – PANAGIA | 5,5 klm |
| CHORA – PIRGOS | 6,5 klm |
| CHORA – GALANI | 10 klm |
| CHORA – MEGALO LIVADI | 11 klm |
| LIVADI – CHORA | 5 klm |
| LIVADI – KENTARCHOS | 7 klm |
| LIVADI – PANAGIA | 10 klm |
| LIVADI – PIRGOS | 11 klm |
| LIVADI – GALANI | 12 klm |
| LIVADI – LIVADAKIA | 650 μ. |
| LIVADI – RAMOS | 1,5 klm |
| LIVADI - KOUTALAS | 10 klm |
| LIVADI - MEGALO LIVADI | 15,5 klm |