Entertainment in Serifos
Where you will enjoy your drink in Serifos
Night life in Serifos
During the night, Serifos reveals its other face! The face of entertainment!
Most of the bars are located in Livadi where the heart of the island's nightlife beats.
Relaxing drinks by the sea, with lounge music that does not cover the sea sounds... and clubs with loud beats for fun till the morning hours!
Of course there are also bars and traditional cafés in Chora, at Mills' square as well as in the island's narrow streets, hidden here and there.
Here you can enjoy your drink or your tsipouro and watch people passing by while exploring the streets of Chora!
Those who want to spend a quiet evening looking at the Aegean Sea, in some tavern by the sea, can go to more remote settlements, such as Platys Gialos, Sycamia, or Megalo Livadi.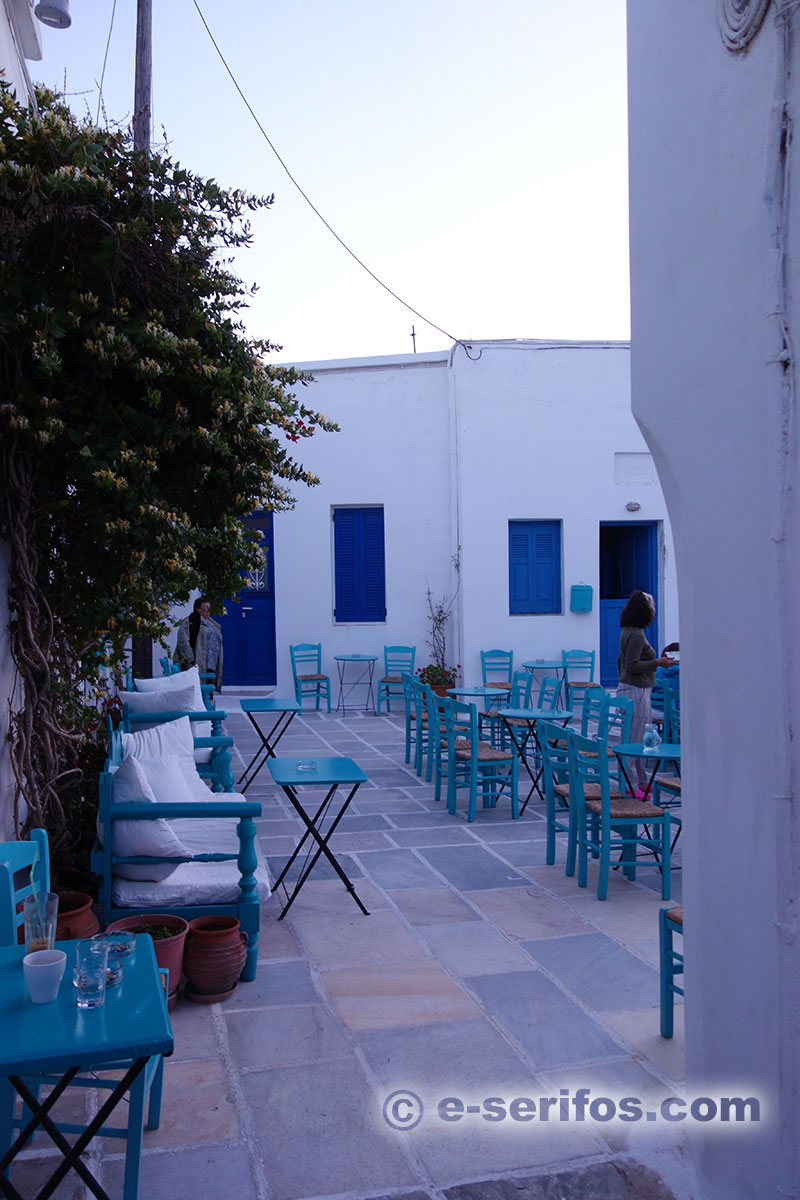 Most of the days of the year there are festivals! Don't miss the chance to visit them! Ask the locals if there is any festival during your stay on the island. You shall have a unique unforgettable experience!
Some of the festivals that take place during the summer are the following:
The festival of Agia Eirini in Koutalas on the 5th of May
The festival of Agios Constantinos and Agia Eleni on the 21st of May
The festival of Agii Anargyri in Kalavratsena and in Galani on the 1st of July
The festival of Profet Helias in Vounia and in Ksero Chorio on the 20th of July
The festival of Agia Paraskevi in Kato Chora and in Kountoura of Galani on the 26th of July
The festival of Sotiras (the Saviour) in Kalo Ampeli and in Pirgos on the 6th of August
The festival of Panagia in Ramos and in Skopous the 15th of August
The festival of Panagia in Pirgos on the 16th of August
The festival of Panagia Miliani on the 23th of August
The festival of Agios Ioannis Prodromos in Sclavogiannis on the 29th of August
The festival of Agios Sostis at the homonymous beach on the 7th of September
The festival of Panagia sto Vouno at the old Avessalos on the 8th of September
The festival of Agia Thekla in Sclavogiannis on the 23rd of September